18.11.2020
Materials of the online seminar "Review of Climate Action and the Transition to Sustainable Energy in Ukraine"
On November 18, the Renewable Energy Agency, the Bioenergy Association of Ukraine, the Global 100 RE Ukraine and the INFORSE-Europe International Network for Sustainable Energy held an online seminar entitled "Review of Climate Action and the Transition to Sustainable Energy in Ukraine". The event was organized as part of the project "Civil Society for Sustainable Energy – from local to national in Eastern Europe (SELNEE)."
In total, more than 1,700 stakeholders, including government, civil society, business and academia, participated in the workshop through the online platform and in real-time online viewing.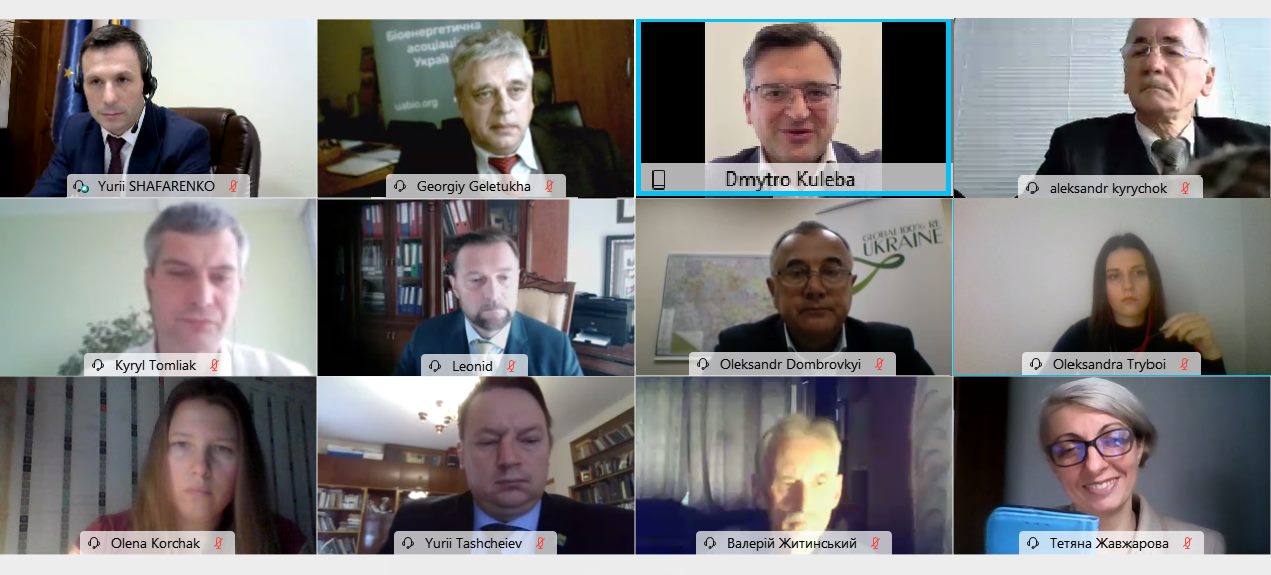 Representatives of the authorities at the online seminar were, in particular, the Minister of Foreign Affairs of Ukraine Dmytro Kuleba, the Deputy Minister of Environment and Natural Resources of Ukraine Iryna Stavchuk, the Deputy Head of the State Agency for Energy Efficiency and Energy Saving of Ukraine Yurii Shafarenko.
As part of the online seminar, representatives of civil society spoke on various aspects of Ukraine's transition to sustainable energy. In the final part of the seminar, representatives of civil society institutions made a joint statement to the Cabinet of Ministers of Ukraine, headed by Prime Minister of Ukraine Denis Shmyhal, about the need to develop and approve a Ukrainian Green Deal.
Presentations of the speakers (in Ukrainian):
"Views of Civic Union "Global 100RE UA" on the development of energy in Ukraine until 2050 –2070″, – Oleksandr Dombrovskyi, Chairman of the Board of Civic Union "Global 100RE UA"
"Roadmap for the development of bioenergy in Ukraine until 2050", – Georgii Geletukha, Head of the Board of Civic Organization "Renewable Energy Agency"
"Prospects of the bioenergy sector of Ukraine regarding the implementation of the national determined contribution (NDC)", – Kyrylo Tomliak, manager of EBRD program"
"Roadmap for the development of green hydrogen in Ukraine until 2050", – Aleksandr Riepkin, President of Ukrainian Hydrogen Council
"Scenarios of Ukraine's energy development until 2050 under the implementation of the Paris Agreement", – Oleksandr Diachuk, leading researcher of Institute for economics and forecasting of NAS of Ukraine
"Distributed RES generation as a component of the energy transition", – Oksana Aliieva, "Climate Change and Energy Policy" Program Coordinator at the Heinrich Boell Foundation, Kyiv Office Ukraine
"Roadmap of Ukraine's climate goals until 2030. Public vision", – Oleh Savitskyi, Board Member of NGO Ecoaction, climate and energy policy expert at the Climate Action Network
"State Decarbonization Fund: a sustainable instrument of state incentives", – Oleksii Korchmit, Head of NGO "Ukrainian ESCO-Association"
"Review of climate actions and the transition to sustainable energy in Ukraine. Results of the SELNEE project", –Oleksandra Tryboi, senior consultant of Civic Organization "Renewable Energy Agency", Board Member of INFORSE-Europe, International Network for Sustainable Energy
Video of the online seminar (in Ukrainian)
SELNEE project Partners:



Read more about the project "Civil Society for Sustainable Energy – from local to national in Eastern Europe (SELNEE) here: https://rea.org.ua/projects/472/  and here: https://www.inforse.org/europe/SELNEE.htm

The project SELNEE is financially supported by the Civil Society in Development Foundation (CISU), Denmark